nLab


M-string
Context
String theory
Ingredients
Critical string models
Extended objects
Topological strings
Backgrounds
Phenomenology
Physics
Contents
Idea
The brane intersection of an M2-brane with an M5-brane (i.e. a self-dual string in the M5's worldvolume D=6 N=(2,0) SCFT is called an M-string if the other end of the M2-brane intersects another, parallel, M5-brane.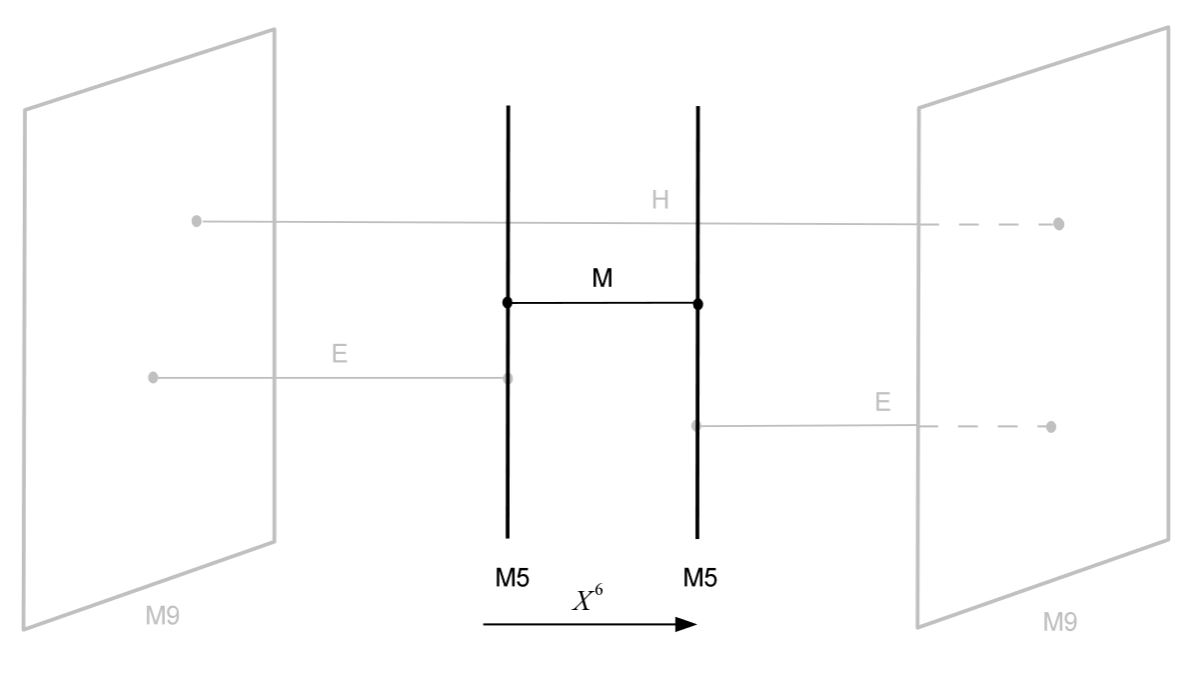 graphics grabbed from HLV 14
In contrast, if the other end of the M2 intersects an MO9-plane, then the former intersection is an E-string.
Properties
M-string elliptic genus
See at M-string elliptic genus.
References
General
Babak Haghighat, Amer Iqbal, Can Kozcaz, Guglielmo Lockhart, Cumrun Vafa, M-Strings, Commun. Math. Phys. 334, 779–842 (2015) (arXiv:1305.6322, doi:10.1007/s00220-014-2139-1)

Babak Haghighat, Can Kozcaz, Guglielmo Lockhart, Cumrun Vafa, On orbifolds of M-Strings, Physical Review D 89.4 (2014): 046003 (arXiv:1310.1185)
Elliptic genera as super -brane partition functions
The interpretation of elliptic genera (especially the Witten genus) as the partition function of a 2d superconformal field theory (or Landau-Ginzburg model) – and especially of the heterotic string ("H-string") or type II superstring worldsheet theory has precursors in
and then strictly originates with:
Review in:
Formulations
Via super vertex operator algebra
Formulation via super vertex operator algebras:
and for the topologically twisted 2d (2,0)-superconformal QFT (the heterotic string with enhanced supersymmetry) via sheaves of vertex operator algebras in
based on chiral differential operators:
Via Dirac-Ramond operators on free loop space
Tentative interpretation as indices of Dirac-Ramond operators as would-be Dirac operators on smooth loop space:
Via conformal nets
Tentative formulation via conformal nets:
Conjectural interpretation in tmf-cohomology
The resulting suggestion that, roughly, deformation-classes (concordance classes) of 2d SCFTs with target space are the generalized cohomology of with coefficients in the spectrum of topological modular forms (tmf):
and the more explicit suggestion that, under this identification, the Chern-Dold character from tmf to modular forms, sends a 2d SCFT to its partition function/elliptic genus/supersymmetric index:
This perspective is also picked up in Gukov, Pei, Putrov & Vafa 18.
Discussion of the 2d SCFTs (namely supersymmetric SU(2)-WZW-models) conjecturally corresponding, under this conjectural identification, to the elements of (the third stable homotopy group of spheres):
Occurrences in string theory
H-string elliptic genus
Further on the elliptic genus of the heterotic string being the Witten genus:
The interpretation of equivariant elliptic genera as partition functions of parametrized WZW models in heterotic string theory:
Speculations on physics aspects of lifting the Witten genus to topological modular forms:
M5-brane elliptic genus
On the M5-brane elliptic genus:
A 2d SCFT argued to describe the KK-compactification of the M5-brane on a 4-manifold (specifically: a complex surface) originates with
Discussion of the resulting elliptic genus (2d SCFT partition function) originates with:
Further discussion in:
M-string elliptic genus
On the elliptic genus of M-strings inside M5-branes:
E-string elliptic genus
On the elliptic genus of E-strings as wrapped M5-branes:
On the elliptic genus of E-strings as M2-branes ending on M5-branes: